Budatínsky zámok
castle, preserved
The castle was built in the 13th century as a water castle at the confluence of the Váh and Kysuce rivers. In the 18th century, a Baroque-Classicist manor house was built on the remains of the fortifications, it burned down in 1849. The restoration began in the years 1920 - 1922. Exposition of the Považské Museum in Žilina.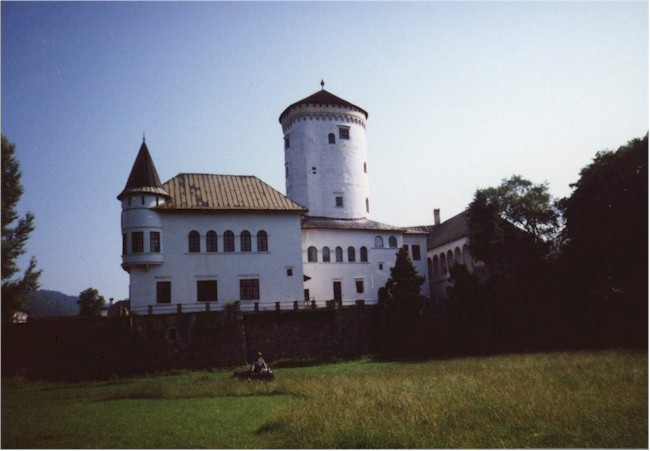 Historic names
Budatín; 1321 castrum Budetyn, 1323 turris Budetyn, 1350 fortalicium sive Budetin; (Budatin castle)
Description
The castle was built during the refortification of the country after the Tatar invasion in the middle of the 13th century. It was a water castle, protected by rivers Váh and Kysuca and moats. Construction work reached its peak when the castle was owned by the Suing family, between 1487 and 1798. A Renaissance reconstruction, in 1551, is recorded on a fireplace on the first floor of the tower. By the 18th century the castle no longer hand any military function and a baroque-classical chateau was built over the remains of the fortification. In 1798, ownership of Budatín Castle passed to the Čáky family, who retained it until 1945. The castle became involved in the revolutionary events of 1848 - 1849 and on 10 January 1849 it was burned nearly to the ground and after that it was left to decay for a long time. The owners did not begin a complete reconstruction until 1920 - 1922. The ruins of the baroque palace were removed and a south- west wing built in a revivalist style. The building has survived in this form to the present day. Today it houses exhibitions prepared by the Považie Museum in Žilina and further exhibitions are being planned to welcome visitors in the future.
In Žilina at the confluence of the rivers Váh and Kysuca.
Access
By train to Žilina. From the station by public transport bus or on foot directing to Kysucké Nové Mesto to the city quarter Budatín. To the left across the railway to the castle.
Gallery
Nearby castles
Žilina
(1 km),
Hričov
(5 km),
Lietava
(6 km),
Strečno
(7 km),
Bytča
(8 km),
Súľov
(8 km),
Starý hrad
(8 km),
Rajec
(10 km),
Považský castle
(14 km),
Domanižský hrad
(16 km),
Sklabiňa
(18 km),
Zniev
(19 km),
Sučany castle
(19 km)