Bojnický zámok
castle, preserved
Preserved castle, first mentioned in 1113. The last reconstruction is in the neo-Gothic style in 1889 - 1910. Nowadays, there are exhibits of the Slovak National Museum. National cultural monument.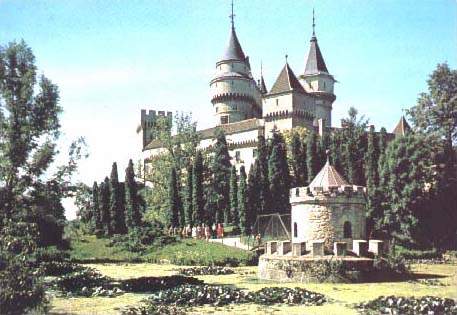 Historic names
Bojnice , Bojnický hrad, 1113 Baimoz, Waymich, 1302 castrum Baymuch, 1323 castrum Baymach
Description
The first written records of its existence come from 1113 in a document from the Zobor abbey. Originally the fortress was made from wood and grew out of the older fortress. Gradually over the 13th century it was built up from stone. At the end of the 13th century Bojnice was seized by the magnate Matus Cak Trenciansky and the fortress remained in his hands until 1321. After him, in the 14th and 15th centuries, ownership of the fortress changed hands between the following noble families : Gileth, Leustach and Noffry. It is rumoured that King Matej himself took pleasure in visiting Bojnice and would sit under the lime tree opposite the fortress's entrance, which was named the King Matej Lime tree. He would dictate official documents in its shadow, which would begin: ' Sub nostris dilectis tillis Bojniciensibus'. After the death of King Matej the fortress was seized by the Zapolsky troops, who inhabited it till 1526. In 1527 the fortress was given to Alexej Thurzo. The Thurzos transformed the Gothic fortress into a renaissance seat. After the Thurzo family died out, the king presented it to Palffys in 1644. The fortress received a baroque resemblance at the end of the 17th century. The extensive neo-gothic renovation was carried out during the years 1889 to 1910 and changed the fortress into an enchanting castle. In 1970 the castle was declared as a National cultural monument.
In the downtown of Bojnice.
Access
By train or by bus to Prievidza. From Prievidza to Bojnice by public transport.
Gallery
Nearby castles
Diviacka Nová Ves
(5 km),
Sivý Kameň
(7 km),
Uhrovec castle
(9 km),
Veľké Uherce
(13 km),
Šimonovany
(13 km),
Bánovský hrad
(15 km),
Zniev
(16 km),
Kremnica
(16 km),
Michal's castle
(17 km),
Košeca
(18 km),
Domanižský hrad
(18 km),
Žiar nad Hronom
(19 km),
Hliník nad Hronom
(19 km),
Revište
(19 km)