Turňa
, castle (ruin)
Place: Turnianske Podhradie, County: Košice okolie, Region: Košice , Historic region: Turna
Other names
Turňa; 1357 castrum Thorna, 1406 Tornauara, castrum Torna, 1409 castrum Thorna, Torna
Brief description
Ruins of the castle from 14th century. It was destroyed in 1685.
Pictures
Situation
On a hill on the south of Zádielská planina above the valley Turnianska dolina, altitude 375 meters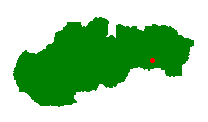 Kamenní strážcovia

Potulky Slovenskom


Krajina hradov
Nearby castles
Ida castle, Jasov, Jasov monastery, Moldava, Sokolí Kameň
Links to other sites
Literature
Satellite map
Visitors' comments
In the list are 66 comments.
mohawk
Ešte som zabudol, okolie hradu sú veľa kríkov, tak povediac úplne zarastené, čo neprospieva. Treba to začať, čim skôr! . ...
mohawk
Včera som bol na Turniansky hrad (07.03.2013), bolo to vynikajúco. Mali sme krásny zážitok. Podla mna hrad sa dá zachrániť na obnovu. Len treba začať, a nie vyhovarat že nie sú peniaze, keď v Bratisl ...
tilde
http://tornavidek.info/sk/2011/03/turniansky-hrad/

História a súčastnosť hradu na stránke TornaVidék ...