Súča
, castle (perished)
Place: Dolná Súča, County: Trenčín, Region: Trenčín , Historic region: Trencin
Other names
1318 Zucchn, 1393 Sudcze, 1398 castrum Zudcze, 1429 castum Sudcza, 1475 Swcza
Brief description
A perished castle, which was mentioned as desolated in 1583.
Situation
On the hill Krasín 1 km west from Dolná Súča, altitude 516,2 meters.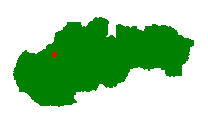 3D hrady

Hrad Beckov


Kamenní strážcovia III


Malé Karpaty 1935
Access
By bus from Trenčín to Dolná Súča.
Nearby castles
Ilava castle, Košeca, Skalka, Trenčín castle, Vršatec
Articles
Visitors' comments
In the list are 26 comments.
BarboraB
Návšteva Krásina určite stojí za to. Kto rád pátra po zvyškoch hradov, tu sa môže vybúriť =). Dodnes stojí časť múru a od minulého roka tam chodievajú aj dobrovoľníci - na jar opravili studničku pod K ...
exo
nerobí a z hradu tam už nie je 99% ...
M
robi sa niečo na tomto hrade ...