Stropkov castle
, castle (perished)
Place: Stropkov, County: Stropkov, Region: Prešov , Historic region: Zemplin
Other names
1408 castrum seu fortalicium Ztropko
Brief description
A perished castle built in 13th century and destroyed in 1711. A mansion-house is built on its place.
Pictures
Situation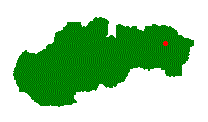 3D hrady

Hrad Beckov


Kamenní strážcovia III


Malé Karpaty 1935
Nearby castles
History
The castle was built after 1245 by the Czudar family. It owned it for more than 150 years. The internal and the external part of the castle were connected by a falling bridge. After 1414 the king Žigmund donate the castle to Peter from Perín and in 1440 was captured by "bratríci". Later was shortly occupied by Polish army, until it was defeated by the king Matej. The castle was returned to lords from Perín. In 1483 was castle shortly occupied by the Hungarian army, then in 1491 by Albrecht. In 1686 was the town and the castle under rule of Imrich Thököly, who fired the town. After suppressing of the Rákóczi uprising, in 1711 commanders of the emipire army Lauken and Wolsken destroyed the castle. From the ruins of the medieval castle was built a new mansion house.

Literature:
Belo Polla: Hrady a kaštiele na východnom Slovensku
Literature
Visitors' comments
In the list are 14 comments.
Dominikzneporadze
Hrad sa už nedá fotiť stojí na ňom kaštieľ v ktorom je radnica. ...
chroustal

Parafrázujem: ..." ochrancovia kultúrneho a historického dedičstva nášho národa, spojme sa!!!"
Pošlite, prosím, niekto nejaké info o vašich osobných aktivitách pri záchrane pamiatok,hlavne h ...
Mazo
Ahoj, mail pripajam. Nema niekto z vas aj fotky sucasneho stavu hradu? Dik ...