Dobrá Voda
, castle (ruin)
Place: Dobrá Voda, County: Trnava, Region: Trnava , Historic region: Nitra
Other names
Dobrovodský hrad, 1263 Jokw, 1316 Joku, 1394 Bona Aqua, 1436 Dobra Woda, Hung. Jókő, Ger. Guttenstein
Brief description
Ruins of the castle built in 13th century, rebuilt in 14th century. It falls into ruins since 19th century.
Pictures
Situation
In the northern part of the mountains Malé Karpaty, near the village Dobrá Voda, altitude 320 meters.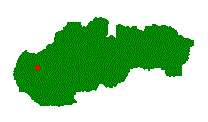 3D hrady

Hrad Beckov


Kamenní strážcovia III


Malé Karpaty 1935
Access
By bus from Trnava to Dobrá Voda. From the bus stop near the church by

(0701) through the cemetery. Then through the wood near Jewish cemetery aproximately 15 minutes to the castle.
Dobrá Voda in media
Nearby castles
Branč, Čachtický hrad, Korlátka
Literature
Satellite map
Visitors' comments
In the list are 92 comments.
M
robi sa niečo na tomto hrade ...
jozo
Milý "podomnou" .... http://www.hrady.sk/?fid=1&from=20 ...
NoirOrioN
Milý ´joško´...žiadna stará mama, ale - skús si tie publikácie kúpiť. Nikde ich nezoženieš (žiaľ), musíš kontaktovať mejlom Skauting a požiadať o dobierku (ktorá je mimoriadne drahá - ale no comment) ...