Čičava
, castle (ruin)
Place: Sedliská, County: Vranov nad Topľou, Region: Prešov , Historic region: Zemplin
Other names
Čičva; 1270 castrum Chichva, 1316 castrum Chychowa, Chychua
Brief description
Ruins of a Gothic castle built in 13th century and destroyed in 1711.
Pictures
Situation
On a hill above the former village Podčičva.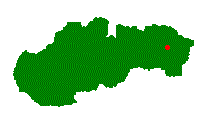 3D hrady

Hrad Beckov


Kamenní strážcovia III


Malé Karpaty 1935
Čičava in media
Nearby castles
Brekov, Jasenov, Michalovce castle, Modré Pole, Pozdišovce castle, Skrabské, Stropkov castle
Literature
Satellite map
Visitors' comments
In the list are 169 comments.
Peter P
teraz som tam bol....skoda ze sa neopravuje....
posielam link na panoramio..... mozete pozret: http://www.panoramio.com/photo/82579199 ...
Casso
http://kastelan-vinne.rajce.idnes.cz/Hrad_Cicva/# ...
casso
Tak ako je to s tým združením?Robí sa niečo na hrade? ...