Banská Bystrica
, castle (preserved)
Place: Banská Bystrica, County: Banská Bystrica, Region: Banská Bystrica , Historic region: Zvolen
Brief description
The castle was a part of the former fortification of the city of Banská Bystrica. In the castle there is a church from the 13th century. The fortification was built in 1480-1510 and it was later rebuilt in a Baroque style. There is the Gallery of Central Slovakia and the Regional Ethnographic Museum.
Pictures
Situation
In the downtown of Banska Bystrica on S. Moyzes square.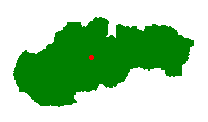 3D hrady

Hrad Beckov


Kamenní strážcovia III


Malé Karpaty 1935
Access
By train (or by bus) to the station Banska Bystrica. Then by trolleybus to the stop Stefanikovo nabrezie and via Kapitulska street and SNP square to the castle.
Banská Bystrica in media
Nearby castles
Dolná Mičiná, Dúbravica, Hronsek, Zvolen, Ľupča castle
Literature
Satellite map
Visitors' comments
In the list are 30 comments.
peppita
HM? okolo krupinského kostola dva krát obohnané múry so 4 okruhlymi a tromi hranolovimi vezami. to máte z kade? Ako viem, dva krát to tam v minulosti nebolo, najdete to na vedute mesta a iných mapkach ...
skalican
no tými ufonmi si ma moc nepotešil ale inak dik ...
Bacill
V byvalej radnici je galéria - striedajú sa tam rôzne výstavy...aj ufoni:-), kostol funguje normálne, v Matejovom dome sa momentálne rekonštruuje a je tam depozit, barbakan je komerčný - reštika, kavi ...